Figuros
Stop General Tagon and his hastily assembled Figuros Army from taking The Greatest Thing In The World.
All you have to do to stop them is tap the Figuros a few times as they show up on the screen. The Figuros Army may not be the most talented group of soldiers, but what they lack in skill they make up for in numbers. It will take quick thinking and a fast finger to get very far.
Luckily, you're not alone. 5 helpful powerup Figuros will help you stop Tagon. Add health, stop time, punch the figuros backwards,
A tap is all it takes.
General Tagon isn't your normal general and won't fight you in your normal battlefields. You will fight Tagon's army in the streets, in a nightclub, in foreign lands, and even in space!
The campaign mode takes you to every location, with cutscenes all along the way. Tapping games have never been so fun.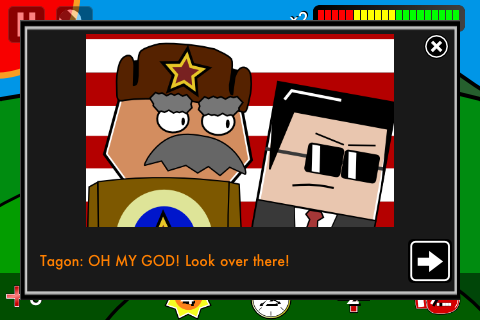 Well, maybe more than one tap.
With 9 locations, 4 different game modes, many figuros to fight, a fun storyline, high score boards and Game Center support, Figuros is a great addition to your iPhone game collection.